Ground covers are an important part of any landscape design where energy efficiency and conservation is a consideration. With proper selection for specific areas, they can be very efficient in cutting down on heat build up and transference around the exterior of your home and therefore help reduce the amount of heat absorbed into your home.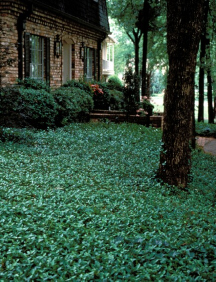 There are some ground covers that do not need a lot of sun and will grow in shady areas of your yard where sod does not do well. Certain ground covers can be used on slopes to provide erosion control. They can be planted next to a driveway or walkway to provide a barrier or to discourage traffic patterns and will again help absorb heat from concrete or blacktop. And ground covers, if selected properly for the area, will use much less water than most turfs, once established.
One of the most popular ground covers that we install is Asian Jasmine. We usually plant Asian Jasmine in defined areas to establish large, shady beds, such as under large trees, although this plant tolerates sun just as well. It is a dense, fast growing ground cover with small oval leaves that are shiny. It prefers moist, well drained, well prepared soil for best establishment. Once established, it is fairly drought tolerant and requires very little in the way of maintenance as long as planted in a defined area. In most cases Asian Jasmine will climb only if trained to do so.
As a rule this plant is evergreen in our local climate. It grows to a height of 6 to 12 inches, spreads to 3 ft. plus and is very hardy in our grow zone. It is dense enough, once established, to discourage most weed growth, although some hand weeding may be required until established.
We can supply and install Asian Jasmine in a one (1) gallon size for $3.50 per plant with a minimum of 100 plants. There may be some additional charges if you do not have an established bed where plants are to be installed, or if extra top soil dressing needs to used prior to installation.
We are always available to visit your property and give you a set contract price for installing any plant material you may require for your landscaping needs. Just give us a call at 407-595-5818 or fill out the REQUEST A BID FORM at the top of this page.