This is the last article in our summer series, THE HEAT IS ON. Our intention has been to maybe make you more aware of some of the benefits of landscaping with energy efficiency in mind and suggesting ways that this can be accomplished. We have talked about the significant value of trees in cooling the perimeter of your home and have discussed how ground covers, hedges, and trellises with vines can add to the accumulative cooling effect of your landscape. By combining these different types of plants in your design, and, by giving some thought to placement and future growth patterns, you can make a significant difference in the amount of heat that is reflected and absorbed into your home. And that can save you money on energy and cooling costs overall.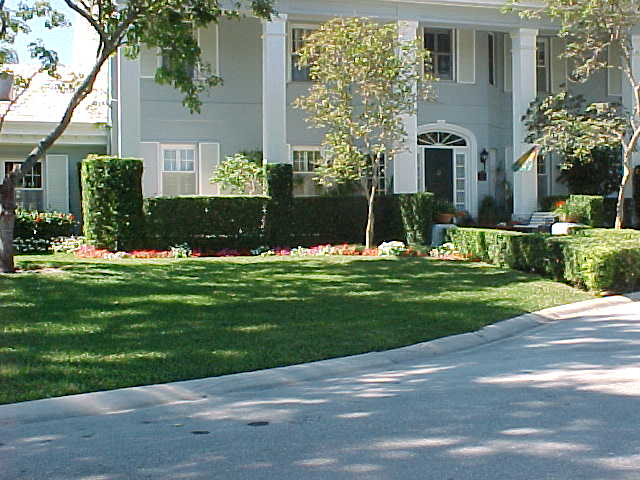 The home that is pictured above is an excellent example of landscaping with energy efficiency in mind. They have taken steps to make the most of natural cooling effects. This home faces slightly southwest and with the use of a few strategically placed trees and a well maintained podocarpus hedge, the front of the house stays well shaded throughout the day. They have let the hedge grow taller at each end of the porch to block the early morning and late afternoon sun. Across the front of the porch, the hedge drops to an intermediate height, to block most of the sun during the day, but does not block the view from the windows and still allows air flow across the porch. The shrubs drop even more to shade the walkway and keep the heat from radiating from the hard surface.
The trees are kept thinned to allow sufficient sunlight filtration for good turf growth and they have taken advantage of the areas where they still get sun for most of the day to add some nice color with annual beds. The end result is an energy efficient, shaded, cooler, well balanced design.
With over 28 years combined experience in our Planning and Design Department, at JLC Outdoors we have what it takes to consult with you on a plan for shading your home. Fill out the CONTACT US FORM on our website or give us a call at 407-595-5818. We will be glad to meet and work with you to make your outdoors cooler and more enjoyable.