Cooler and eventually colder weather will be here before we know it. With the cooler weather, comes the perfect opportunity to address any problem areas you may have in your landscape or, to just add a fresh touch!
Mulch Installation:
$40.00 PER CUBIC YARD SUPPLIED AND INSTALLED (MINIMUM FIVE (5) CUBIC YARDS).
We have just received a huge new shipment of mulch and we are reinstating OUR WEB SITE ONLY SPECTACULAR MULCH SPECIAL until the end of October or until this shipment is sold out.
Not only does mulch look nice it also provides many benefits to the landscape! It conserves moisture for plants; it helps to control weeds and helps to moderate soil temperatures in extreme weather, hot or cold! For those of you who like to do it yourself, we can deliver mulch to you. There may be a small charge for delivery.
We will be glad to come out and give you an estimate on how much mulch it will take. Give us a call at (407)595-5818 or submit a bid request through our website.
Palm and Tree Trimming:
We still have two more months of hurricane season. If you have palm trees that need fronds removed or other trees on your property that need thinning or the canopy lifted give us a call. We have special prices on palm and tree trimming for the month of October and expert crews to take care of all your trimming needs. We can provide this service for you and as always we are available for free estimates. Give us a call at (407)595-5818 or submit a bid request through our website.
Sod Installation: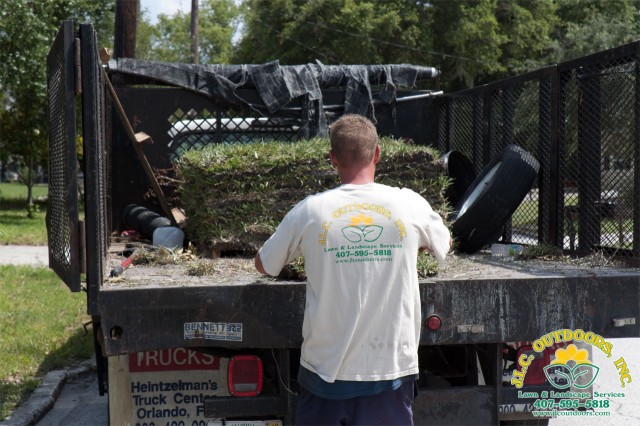 Need Sod Replacement? If so, now is a great time to replace. Here are just a few great reasons:
As temperatures become more moderate there is a lot less stress on newly installed sod and this encourages faster establishment of the turfs new root system.

This means less water! Less water used is more money in your pocket!

Moderate temperatures also mean less evaporation.

With less evaporation

, more water gets to the root system of the new sod. This will allow your new sod to develop a deep root system which will give you grass that is more drought tolerant year round.
Replacing your sod now, gives the sod time to establish itself before extreme cold temperatures arrive. And a healthy, established lawn will have much more resistance to chinch bugs, sod webworms, fungus and other common pests.
JLC Outdoors gives free estimates and will be glad to visit your property and consult with you on your sod needs. Give us a call at (407)595-5818 or submit a bid request through our website.