Scientific name: Phoenix sylvestris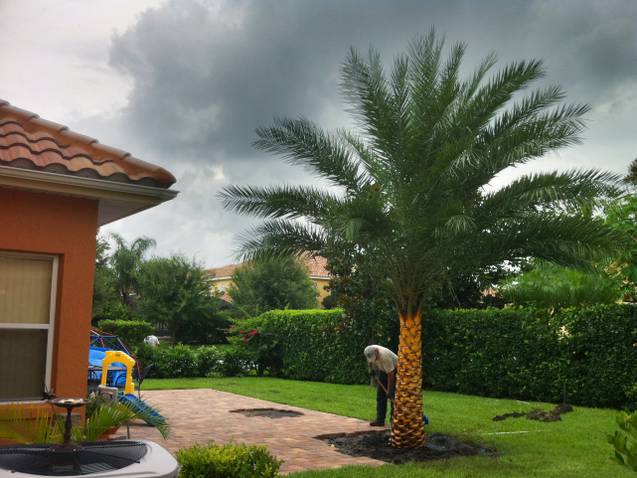 The Sylvester Date Palm is also known as Sugar Date Palm, India Date Palm, and Wild Date Palm. This tree was the Florida Nursery Growers & Landscapers Association 2006 Plant of the Year. With its bright green, slightly curving fronds and bumpy trunk, it is fast becoming the central trophy plant in many landscapes.
The Sylvester Date Palm produces small white flowers supported by 2-3ft long branching fronds.. The Sylvester Date Palm is dioecious, male and female flowers are born on different plants. Flowers are followed by oval fruits, about 1 inch in diameter, turning purple-black when ripe. Fruits are eatable and have a sweet taste. They contain a single seed inside.
It has a moderate growth rate, will grow in full sun or partial shade, and is drought tolerant once established. Its looks literally scream tropical, but it can tolerate temperatures as low as 15° F so it is well suited to our recently colder winters… The date palms have the typical diamond-shaped leaf scars on the trunk of the tree, and produce feather-shaped fronds with nasty sharp spines at the base of their leaves. They can grow to a height of 40 feet.