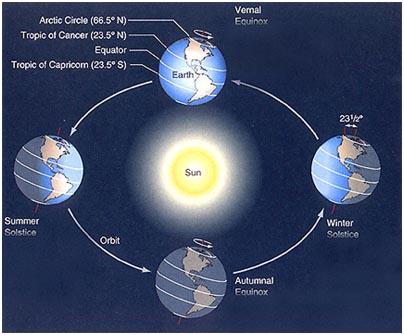 *Earth's Orbit and the Seasons – Image Credits NASA
Friday September 23 was the official beginning of fall for the year 2011 and how fantastic to actually get some cooler temperatures to go along with the change of seasons.
However the four seasons are determined by changing sunlight (not heat)—which is determined by how our planet orbits the Sun and the tilt of its axis. Fall begins at the autumn equinox. Day and night are about 12 hours long and the Sun is at the midpoint in the sky. The North Pole moves away from the Sun. The Autumnal Equinox for the year 2011 was September 23, at 5:05 A.M. EDT.
There are other, more subtle but familiar hints that fall is approaching. Pro and college football games every week-end. Major league baseball in division play offs. And all over our neighborhoods Moms and Dads are shuttling our children and grand- children to football, soccer and baseball practices and games. Many of these same Moms and Dads either coach or assume other volunteer roles in making these activities possible.
My youngest grandson Jack started playing football for the Apopka Raptors at the beginning of September. He is 5 and this is his first year for AAU tag team football. Jackson has played T-ball baseball for two seasons already but decided he wanted to try football instead this fall. He will probably come back to baseball for spring league.
Grayson, his older brother, had his first fall league baseball game of the season on Saturday September 24th. Gray is 9 and this is his fourth year in Apopka Little League. The game was attended by moms, dads, grandmothers, grandfathers, cousins friends and neighbors, which is normal for Apopka Little League Baseball. A good time was had by all.
Gray's Blue Bombers lost their first game but it wasn't due to a lack of good coaching. His Dad, Jason, fills that job as he has every year since Gray started playing. This is Jason's fourth year of coaching Gray and he also coached Jackson last year in T-ball. Jason played baseball from T-ball through high school and was an excellent player so he is a good coach.
JLC Outdoors sponsored the Apopka Rays for several years and it is always great to see kids who have played in previous years as they grow. We have plaques on our office wall with a team picture for each year sponsored so it is easy to track their growth.
And, a sure sign that it is not quite as hot as it has been, I managed to get in 18 holes of golf on three previous occasions in September and I certainly could not pass up the opportunity this week-end with lows in the 60's and 80 degree afternoons. So Jason and I ventured out for 18 holes and took his two boys with us. Grayson was the official score keeper and did a great job of raking the sand traps after I got out of them. Jackson did an excellent job of pulling the flag when we were on the putting green and filled many more divots than we made. It was a beautiful day and one to be cherished and remembered.
I am sure we are still going to see some hot days ahead but hope we can all enjoy our outdoor living spaces more as the cooler weather moves in. A great article in one of our trade magazines used the phrase "Come Alive Outside". It referred to bringing a lot of action pictures to mind, like running, sitting, laughing, jumping, watching, playing, walking, talking, listening, and simply enjoying the benefits of being outside.
I like that. All of these are actions, a few of which some of us can no longer do as well, but we all can certainly sit, laugh, watch, talk, listen, and I hope simply enjoy the benefits of being outside.
If we can be of assistance in making you OUTDOOR LIVING SPACES more enjoyable please call us at 407-595-5818 or fill out our REQUEST A BID or the CONTACT US FORM on our website.
Jim Adams
October 2011