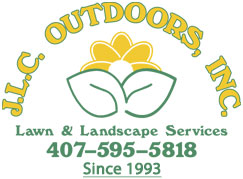 Thank you for making JLC OUTDOORS your lawn maintenance service provider. We are a full service Lawn Maintenance and Landscaping Contractor. We started as Jason's Lawn Care in the College Park area of Orlando, Florida in 1993.
Jason Adams is the owner and President of JLC Outdoors Inc. and, as he has for the past 23 years, is still providing hands on management and personal service to all our clients. You can e-mail Jason at jason@jlcoutdoors.com.
Clay Pratt is our Field Operations Supervisor and also manages and schedules our Irrigation Division. You can e-mail Clay at clay@jlcoutdoors.com.
Jim Adams is our Office Manager. Jim answers most of your calls and makes sure your service requests are directed to the right person for prompt attention. You may email Jim at jim@jlcoutdoors.com.
Our office number is 407-595-5818 and we are available 8 a.m. to 5 p.m. Monday through Friday. With our state of art communications system Jason, Clay and our crew foremen are always in reach to address any requests that may come up. You may fax us at 407-738-4747. Please visit our web site at www.JLC-Outdoors.com to view some of the properties we service, to see landscape designs and installations that we have done, and to check our current specials, articles, and plant profiles. And please leave a comment or a review.
We can also provide the following services:
Landscape Design and Installation:

We can design a plan for you, will work with your landscape designer, or will be glad to help you make your personal visions and ideas become reality.

Palms, Trees, and Plants Installed:

All of our plants are top quality and hand selected.

Annual and Perennial Beds Planted:

For that touch of color, year round.

Mulch and Sod Installed:

Our sod is purchased locally, cut, delivered and installed fresh the same day. Our mulch is installed by hand, never blown in.

Clean-ups and Weed Control:

All our spray techs are licensed by Florida State Dept. of Agriculture.

Irrigation:

Install, Repairs, and Monitoring Plans: Special pricing for our clients.

Outdoor Low Voltage Lighting:

To accent, for effect, and to provide security for your home.
Again, thank you for giving us the opportunity to work with you. We realize your home is a major investment and hope we can help you to increase its value, make it more relaxing and enjoyable, and provide you with more leisure for the really important things in life. Do not hesitate to call or email and let us know how we can best accomplish that goal.
Sincerely, JLC Outdoors