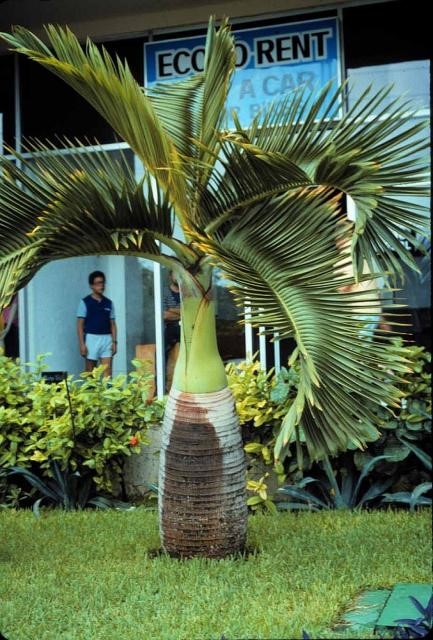 Many times, we receive requests from our customers asking us to trim their palm trees in what is commonly referred to as a hurricane cut. To picture this, imagine you are looking at the face of a clock. A hurricane cut would be leaving only the fronds that are growing in the 11-1 or at most in the 10-2 positioning on the clock. We have been trimming palms in Orlando and surrounding Central Florida areas for almost 25 years. We highly discourage this practice.
According to standards set by most all Agriculture Extension Programs, this method of trimming is very harmful to palm trees. It has a direct effect on the strength of the trunk of the palm to withstand high winds. It also damages the overall health of the palm. Their recommendation is to remove only the dead fronds from the palm. Green fronds provide food for the tree so removing these healthy leaves robs the palm of essential nutrients necessary for ensuring a healthy plant for your landscape. Palm trees are supposed to have round crowns. Not feather duster crowns. A correctly pruned palm should have an oval or circular silhouette.
The reduction of the green leaf area reduces food production and in turn, the health and growth of the palm is placed in jeopardy. Nutrient deficiencies also cause narrowing of the trunk at the heart of the palm, the area where fronds are produced. Sometimes referred to as pencil-necking this is harmful to the plant and can also present some danger for the homeowner. During high winds this can cause the top of the palm to break off. These palm tops as a rule can weigh as much as 300 to 400 pounds. This could possibly cause considerable damage when falling on a rooftop, pool enclosure, nearby landscaping or automobile.
Not all palms require pruning. There is a large group of palms that have crown- shafts. This is a region of smooth, usually green, tightly clasping leaf bases at the top of the gray trunk, as shown in this photo of the bottle palm. Palms with crown- shafts should never need pruning if properly fertilized. A healthy old leaf will be completely green one day, completely orange-brown the next day, and completely brown the third day when it should fall off by itself. Half dead old leaves that remain on the palm for months at a time are usually deficient in potassium and should be fertilized to prevent this problem. But keep in mind, the more green leaves any plant has the more growth that will be produced. The only true plant food is that which the plant makes.
The enlarged base of the palm frond where it connects to the tree is called the boot. The boot serves as a pipeline or source for nutrients to feed the palm. The boots should never be removed unless they are separating from the tree by themselves. The series of boots on the trunk protects the palm from insects and disease and strengthens the truck for resistance to high winds. They act as shock absorbers during high wind events.
To remove fruit and seeds:
Some palms produce seeds that germinate in the landscape or fruit that makes a mess and smells bad when it drops. Most palms do not produce either fronds or fruit large enough to cause damage when falling. Removing flowers or developing fruit can free up starch that benefits developing fronds, roots and storage reserves.
When removing fruit or seed pods, care must be used to not cut nearby healthy fronds. This can be done by using a ladder to reach the fruit or seeds and by using a bow saw or loppers to carefully remove the unwanted growth. Sometimes a pole saw will also do the job without having to use a ladder.
Reasons to prune palms:
To remove dead or dying fronds. If the frond is yellow, brown or broken prune it off.
To remove nesting places for pests such as rodents. Remove loose petioles or boots by hand. If they don't pull off, leave them on.
To remove potential fire hazards from homes or businesses
For safety reasons; so that views from driveways, sidewalks and safety signs are clear
To remove fruit and seeds. Some palms produce seeds that germinate in the landscape or fruit that makes a mess and smells bad when it drops. The formation of fruit and seed takes strength away from the palm unnecessarily and can produce food for pests such as rodents.
And always remember, Palms must have as many green fronds as possible to produce a continuous supply of food to grow, stay healthy and build storage reserves. No leaves above the 9 to 3 zones should be removed except for reasons stated above.
JLC Outdoors has been pruning palms in Orlando and nearby communities for almost 25 years. JLC Outdoors also provides and installs trees and palms of all sizes. Our landscaping crews receive training courses in proper technique for doing this work according to accepted standards of the trade. We are a full-service Landscaping Contractor providing lawn maintenance and landscape design to Orlando neighborhoods. We can provide anything from plant and sod removal to installing a complete modern design including new turf. Looking for lawn maintenance in Winter Park? An irrigation repair in downtown Orlando? Some nice fall annuals to brighten your landscaping in Windermere? We can help with almost any landscaping needs in the Central Florida area. LC Outdoors provides professional palm and tree installation and maintenance for the Orlando area, as well as other tree services for clients at their request. If you would like to arrange for us to give you an estimate for your pruning needs or for having palms installed, please call now at 407-595-5818 or you can CLICK HERE and fill out our Contact Us form to request that work be done.
As a reminder, we are a full-service landscaping company. We have been providing Landscaping in Orlando for almost 25 years. We offer everything from basic lawn mowing to full service landscape maintenance plans in the Windermere, Dr. Phillips', Winter Park, Winter Garden and most other Orlando neighborhoods. We also offer landscape design and install services in the entire Orlando area.